Complete the puzzle in the underground Lake zone in order to build a boat that will let you and Otto the Geologist cross the lake and explore the far side of the underground cavern.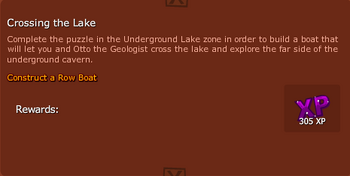 Zone Received In: The Underground Lake
Previous Quest: Mapping the Cavern
Stage 1: Construct a Row Boat
Stage 2: Talk to Dr. Otto
Reward: 305xp (!)
Next Quest: Setting up Camp
Questline: Journey into the Earth...