Complete the puzzle in the Ancient Cavern zone in order to compile a map of the vast underground cavern you and Dr. Otto have discovered. Talk to Otto after you're done.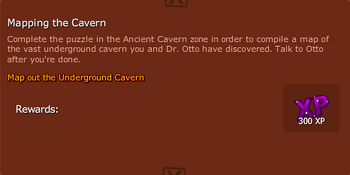 Zone Received In: The Ancient Cavern
Previous Quest: Out of Rations!
Stage 1: Map out the Underground Cavern
Stage 2: Talk to Dr. Otto
Reward: 300xp (!)
Next Quest: Crossing the Lake
Quesline: Journey into the Earth...