Recover all 10 artifacts that were lost when the elves crashed Santa's sleigh. You can find the artifacts by completing puzzles in the special Christmas Zones on the North Pole map. A new zone will unlock for you every day or so if you talk to the elf at the crash site.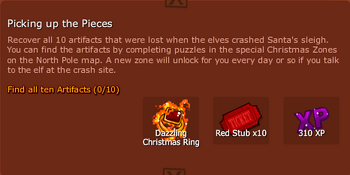 Previous Quest:
The Cover-up!
Stage 1: Find all 10 Artifacts (0/10)
Rewards: Dazzling Christmas Ring, Red Stub x10, 310xp (!)
Next Quests: (1) Running for the Runner, (2) A Very Shiny Nose, (3) Safety First, (4) Relics of Christmas Past, (5) The Right One is Fine, (6) Space Concerns, (7) I'm Sure He's Okay, (8) You Don't Want To Get Lost, (9) You Gotta Go Fast, (10) Comfort First, Too
Questline: Christmas Event
Note: According to the Elf NPC, the next zone will unlock after 12 hours have passed since the last was unlocked and speaking with the Elf again.